I have talked about this lady for sometime now so I thought i'd post some of my fav designs she has made. She inspires me with her mixes of colors and the fact that she can seemingly make something out of nothing.
You all must visit her blog
here
.
The bracelet below is great. I love the elegance of the gold with simple beads and the crust on it.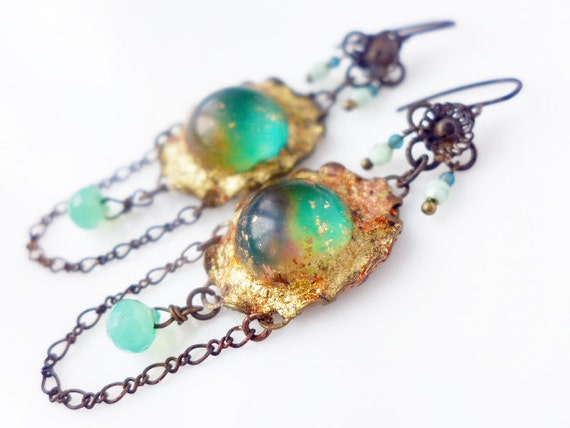 These earrings are beautiful. Love the green which she said were just cheap cabs. That's what I mean by how she can take something a lot of us would never use and use it in such a creative and beautiful way.
These cutie pie mismatched earrings remind me of a merry go round for some strange reason. I think it's the horse. I think they go so well together without matching.
And these stunners are heavenly. There's crust and gold and yellow. The black findings enhance the colors of these earrings.
I also love her necklaces. Love the colors in this necklace. She uses really unique things that I would pass by in a heartbeat as junk.
Love this necklace. There's something simple but elegant about it. It's bright yet dark.
So check out her blog. She is a generous artist who shares some of her techniques and even where she finds some of her oddities. She also sells tutorials which I bought one for making bracelet stacks. I made some of the bracelets putting my own spin on them and they were snapped up in a hurry. For whatever reason i haven't made anymore but i just may have to make some more. They are fun to make because you can do so many creative things with them.
Lest you think I am plugging her stuff i am but i also think you can gain valuable insight from reading her blog. TTFN