I just wanted to wish everyone not out getting romanced a happy Valentine's. I'm not really that into Valentine's. Guess I've been married too long. But we went out to eat (early) like the old people that we are hoping to miss the crowds and it was already packed all along restaurant row. Unbelievable!!
Anyway It's almost time for the drawing for the necklace that I am giving away for the
Grow Your Blog Party
I am participating in.
To be eligible all you need to do is post a comment on my GYB post of January 25th to be entered.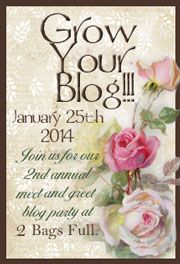 Just look for this post.
I have gained many followers so I decided to add another give away. I haven't decided what piece of jewelry it'll be but it'll be a nice one! So go comment to enter.
And by the way, we sold our house. We cant believe it. Only 2 weeks!! Wow- so now we are packing and throwing and giving away tons of stuff. It's daunting but we can do it.
Happy Valentine's everyone!!!!!!